As many of you all know, I have been rather quiet for a few years now....
There are a few reasons why I decided to 'unplug my keyboard' for a bit (ranging from feeling as though this "little hobby" of mine was rather trivial in light of 'real-time' issues of "life and death" confronting family and friends to just plain not being able to control my 'purchasing power' during my daily "haute hunt" expeditions thus racking up unintended debt all in the name of keeping my readers abreast of what is new/haute/affordable in the world of fashion).
Nonetheless, the pull of Le Chic Urbain has tugged at my heart (and purse-strings in terms of making sure I kept the domain name and respective trademarks alive) for years and now I'm finally inspired to resurrect my "Haute Hunter" alter-ego. What, you may ask, has influenced this change of heart damn near four years later????
I'll give you a clue... "B.A.L.M.A.I.N"!!!!!!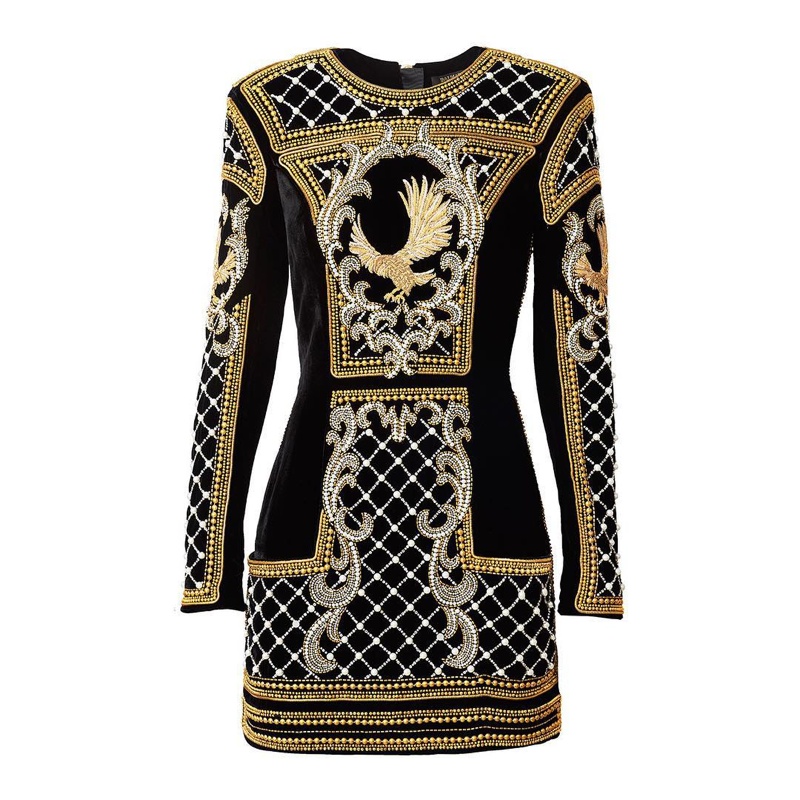 And these kick-ass beaded peep-toe booties.
Click here to see the full collection with prices and to find out where to buy: http://www.hm.com/us/balmain#
Since we're talking iconic French fashion collaborations, I hope you were able to catch some of the 'tres chic' items featured in the Carine Roitfeld x Uniqlo capsule collection that launched last week.
According to Uniqlo.com, this "collaboration with Carine Roitfeld, founder and editor-in-chief of the CR Fashion Book...reflects Ms. Roitfelds broad experience with numerous designers and creators to bring new styles to the world. More than exceptional design, the new collection is based on UNIQLO's LifeWear – innovative, high quality clothing that promotes comfort and is available at reasonable prices. The designs were overseen by Naoki Takizawa, UNIQLO Design Director, and it includes around 40 items from stylish outer to feminine innerwear."
If you haven't had a chance, I urge you to check it out. The wool bodysuit is amazing!
Notwithstanding, Target is never too far behind in the collaboration game. The retail giant has partnered with Katherine Power and Hillary Kerr of '
WHOWHATWEAR.com
' to create a fashion line consisting of 70 pieces priced from $14.99 to $49.99 that will span all four seasons for delivery to all Target stores during the first week of every month beginning in February 2016. This is Target's first collaboration with a media company (Clique Media Group is the website's parent company) as opposed to a fashion brand.
In more exciting news, the CFDA/Vogue Fashion Fund awarded top honors to Aurora James of Brother Vellies footwear line (you go girl!), Rio Uribe of the Gypsy Sport clothing company, and womenswear designer Jonathan Simkhai (one of my favs!) this past Monday during their 12th annual awards event. According to LATimes.com, "'For the first time in the Fashion Fund's twelve-year history, we decided to award three equal winners because of the strength and diversity of this year's finalists,' CFDA President and Chief Executive Steven Kolb said in a news release Tuesday announcing the winners." Each award recipient receives the opportunity to invest $300,000 from the CFDA/Vogue Fashion Fund into their business while also receiving mentorship from industry vets for a year.
Also in the news (fashion news, that is) is the fact that our girl Mz RiRi has pulled out of performing at this year's infamous Victoria's Secret Fashion Show. Rihanna was set to perform at the annual event, taping next week, but then suddenly decided she just wasn't that into them. I guess it is a girl's prerogative to change her mind!
Tyra Banks has also changed her mind in terms of the life cycle of
America's Next Top Model
! Mz TyTy recently announced that after 12 years on the air, the December 4h series finale will be the reality show's final bow. We will surely miss your SMIZE Mz TyTy!
Likewise,
Lucky
magazine is also closing up shop. Launched as a jewel in the Conde Nast crown in December 2000,
Lucky
was created to focus on smart shopping. Luckymag.com continues to operate.
Most of the most riveting fashion news in the last few days/weeks has centered upon the slow and steady departures of many of our fashion design icons from their posts.
Earlier last week, Lanvin's Alber Elbaz announced he would be leaving the fashion house after 14 years as its Creative Director. While many of his employees have staged protests due to the unceremonious manner in which Elbaz was pushed out by Shaw-Lan Wang, who happens to be Lavin's biggest shareholder. Elbaz, however, may not be all that distraught due to the fact that he is rumored to be in the running for the position Raf Simons recently left open at Dior as Artistic Director.
Co-Founder and CEO of Nicholas Kirkwood- Christopher Suarez- has also exited from the role he held for ten years.
In other 'corporate shuffle' news, Anish Melwani was recently named Chairman and CEO of LVMH, Inc. Melwani will be based in New York.
Joyce Green will promoted to EVP of Fashion for the US at Chanel, succeeding Barbara Cirkva.
Last but not least, I want to shout-out Mz EF for being such an integral part of her husband's new NYC venture- Noah Clothing. Noah's founder and Little Mz Sailor's dad- Brendon Babenzian left his role as Creative Director for Supreme to revive the Noah brand he started over a decade ago. The new boutique on Mulberry Street is, according to GQ.com, where you'll find "surf meets streetwear". Congratulations on the new venture!
So, i guess I can't leave without giving you one little 'hi/lo' comp just to re-engage you back into the fold.
Check this out....
Zimmermann Studded Jumpsuit $1,295.00
vs.
Forever 21 Studded Jumpsuit $29.99
On that note SweetHautes, I will bid you adieu until the next time.....
xoxo
me
@mzhautehunter